Originally posted on 2/28/20 as 'Artist-in-Residence' for the American Viola Society: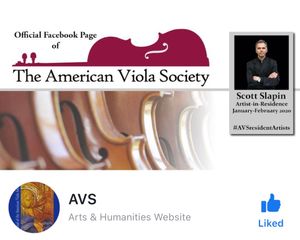 Classical musicians and audiences often see things differently. In my experience, audiences love the viola. These are people who (probably in most cases) didn't attend conservatory to study an instrument. They may be aware of the existence of a few viola jokes, but they're not so biased or jaded as to not give the instrument a chance. 
Tanya and I give a lot of viola duo recitals. Many people have taken a chance on one of our concerts and have since become regulars. I think if we were in a conservatory, no one but other violists would even give us that first chance. Among Classical musicians, "duo viola recital" has as much appeal as "duo bagpipe recital". I imagine the bagpipes might draw a bigger crowd, more out of curiosity than anything else. 
I guess the point of this blog post is.... now that you've spent a fortune to take lessons, go to conservatory etc. to learn how to play the viola..... forget some of the biases and attitudes you came up against and maybe even internalized along the way. The outside world doesn't share them. And as with most hierarchies, it's really just a bunch of nonsense anyway. The Classical world has its own pecking order of what it admires and what it doesn't, and it's often at odds with how audiences see things. 
My composition teacher Richard Lane's favorite string instrument was the viola, and it wasn't because he himself played the viola. (He didn't.) The viola was also the preferred string instrument of J. S. Bach! (Yes, over the violin.) There's a long list of examples of great people who preferred the viola, and I know we can all relate, but sometimes it seems like we're in some sort of minority club--- as if it's a weird thing to be a fan of the viola. I think far more people are with us than our experiences in the Classical bubble would indicate. 
What's so appealing about the viola? I'd say it's the closest to the human voice. It can do what the voice does (and what the piano can't)--- vibrato, portamenti, crescendo mid-note, bend pitches etc., and it can do many other things as well. It was invented to double choirs, to blend in with other voices. It's its own voice, and it's our voice. We may be the Rodney Dangerfield of the conservatory, but audiences loved Rodney, RIP. 
Speaking of the viola being the closest to the human voice.... five years ago, Tanya and I premiered my one-act Violacentrism, the Opera. Like many operas, it has an overture, a finale, and a bunch of arias in between (in this particular case telling the story of Cremonus and the viola... with the help of large cards on a music stand facing the audience and program notes.) There are only two violas--- no singers--- but as the viola was invented in imitation of the human voice, why would you need any? The violas cover the 'missing' voices just as they cover the rest of the 'missing' orchestral sounds. ("Opera" is just the Latin plural of "opus", meaning "work", which relates to the form, not to any singing.) 
We did two performances of the premiere, one in our hometown of South Hadley, and a second up the road in Amherst, so I'll leave you with a clip from each one, as well as the Penn State Viola Ensemble's multi-viola version of the finale. (all links below, except for the playlist, are embedded at the bottom of the page) 
First the overture: https://youtu.be/ffs98SgV6T8 
Then three arias: https://youtu.be/juEnaz9-BLc 
And the finale... played by the Penn State Viola Ensemble: https://youtu.be/7L3nc9oDIK0 
To hear some of the other movements, here's a playlist of the whole thing: https://bit.ly/2ToLFis 
This is my last blog post as the AVS artist in residence! It's been fun, and I hope you've enjoyed this even half as much as I have. In my opinion, we're living in a golden era of viola playing. Technically the level has never been higher, and musically there is an incredibly wide range of interesting stuff going on. Many thanks to Katrin Meidell and the AVS for organizing this artist in residence series.... as well as so much else that the AVS does. If you're going to be at the AVS Festival in June in Knoxville, we will, too! I decided such a viola festival needs an Olympics-style fanfare, so I wrote one. If you're there, please come up and say hi! 
Best, Scott