Originally posted on 1/3/20 as 'Artist-in-Residence' for the American Viola Society: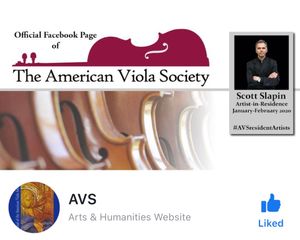 Happy New Year! I'm looking forward to being the American Viola Society's artist in residence for the next couple of months. I'm supposed to write a new blog post each Friday, and I'll do my best to make them as interesting and/or entertaining as possible. 
Having just come off of the 100th anniversary of important works for viola by Bloch, Clarke, and Hindemith in 2019, we're now at another important anniversary, this time for string playing generally. Three hundred years ago--- in 1720--- J. S. Bach completed his Cello Suites and Sonatas and Partitas for Solo Violin, and two hundred years ago--- in 1820--- Paganini's 24 Caprices were published. There are endless quotes of famous 20th and 21st Century musicians referring to one or the other as "the bible" of string playing, but perhaps Sir Yehudi Menuhin (violinist and violist) summed the Bach and Paganini up best as 'the Old and New Testaments'. 
It's obvious to me that the composers expected these works also to be played on the viola. One has only to consider the times in which they were written. Before the 20th Century (and still now to a lesser degree), violists were first trained as violinists. Both composers in question played the viola and were fond of and wrote for the instrument. Had either of them felt the need to have specific unaccompanied material/studies for the viola, surely they would have written some. While the circumstances are less known surrounding the Bach works, Paganini was known to use his Caprices as etudes. Just as he warmed up on his Caprices before performing on violin, it is my belief he did so on the viola as well. His Sonata per la Gran' Viola certainly shows he didn't believe the viola was a limited instrument. 
In a fairly dry acoustic, the earlier Cello Suites are probably the most suited to performance on the viola. However, in a live acoustic, I think the Sonatas and Partitas work just as well. In some ways, because Bach was known for his thick, polyphonic writing, they are more representative of his general style of composition. While they're difficult and the chords are always an issue--- this is true on violin, too! With some of the Paganini, you're dealing with extreme techniques, purposefully written to be difficult, and I don't believe every single one of them makes a great concert piece (also true on violin.) That is to say, as with any book of etudes, some are more musical than others, and some push the technical limits so far, it might not make for the most pleasant experience for the casual concertgoer. However, it's all absolutely excellent stuff for developing technique--- and that the majority of them work well as concert music, too, is only a bonus. 
Regarding editions, I stick to the originals. In my opinion, if something wouldn't be acceptable on the violin or the cello, it generally shouldn't be on the viola either. In the 20th Century, and still today, many (most?) violinists leave out the unique bowing in the middle of Paganini's 5th Caprice, and many cellists have also ignored the scordatura in Bach's 5th Cello Suite (which was originally written for lute) leaving out an occasional 4th note of a chord--- so I view these small changes also as acceptable on viola, too. Generally, I wouldn't recommend simplifying past that though; these pieces have long been in our repertoire in their original form (minus the transposition of key) and are quite well-known among audiences and other musicians. 
In the 1960's, Lillian Fuchs made the first complete recording of the Cello Suites on viola, and Emanuel Vardi (with whom I studied) made the first all-viola recording of Paganini's 24 Caprices. Somehow, by 1998 no one had yet recorded all the Sonatas and Partitas on viola, so I took the plunge, and then rerecorded the entire set in 2006. 
Tomorrow (January 4th) starting at 3 PM (running until around 7:30?), I plan to show up at the Tap Room (one of our local bars) in Hadley, Mass. and perform the complete cycle of 6 Sonatas and Partitas for Violin followed by the 6 Cello Suites in celebration of their 300th year of existence. Drinking is required at any memory slips. Should you be in the area, it would be great to see you there! 
My wife, Tanya Solomon, and I have also put together this short New Year's Video with demonstrations of some of the more unusual technical effects used in the Sonatas, Partitas, Suites, and Caprices here: https://youtu.be/FAe3mSv7MKc (see video below) 
If there are any questions you'd like me to answer or topics you'd like me to cover in the next weeks, please put them in the comments section. I'll do my best to get to them! 
Best,
Scott